LATF Calendar
Friday, March 13
Leon and the Forklifts @ Madigan's for Mardi Gras in Ellicottville
Friday, March 13th from 6:00 pm to 10:00 pm
Saturday, June 27
Leon and the Forklifts @ Crazy Jakes - Tonawanda
Saturday, June 27th from 9:00 pm to 1:00 am
Friday, July 17
Leon and the Forklifts @ The Clambake
Friday, July 17th from 6:00 pm to 9:00 pm
Saturday, July 18
Leon and the Forklifts @ Private Party
Saturday, July 18th
Friday, July 24
Leon and the Forklifts @ Kenmore Days - Mang Park
Friday July 24th from 7:00 pm to 10:00 pm
Sunday, July 26
Leon and the Forklifts @ Crazy Jakes - Tonawanda
Sunday July 26th from 6:00 pm to 9:00 pm
Saturday, August 15th
Leon and the Forklifts @ Private Party
Saturday, August 15th

Saturday, August 22nd
Leon and the Forklifts @ Concert for a Cure
Saturday, August 22nd
8pm Start Time
Book LATF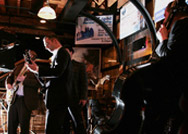 Get leon and the forklifts to play your event / Venue
The summer is coming and it's not too late to get Leon and the Forklifts at your upcoming events, parties, venues and weddings!
LATF Posters
Where's the next show?
Get to the party with Leon and the Forklifts... Time to Party... Check out the posters and pics past and upcoming LATF shows...
Featured Event
Leon and the forklifts @ Madigans
March 8, 2013 - 9:00pm
Ahhh, it's Mardi Gras in Ellicottville and the Forklifts take the stage on March 8th. Time to eat the great food around town, do a little skiing or snowboarding during the day, and end the evening by partying with the Forklifts! Don't miss it and don't forget your dancing shoes...
On Twitter