The Story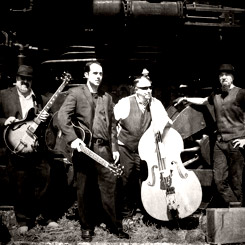 The group, initially located in Buffalo, New York, started as a four piece Blues band led by vocalist Mike Bongiovanni with Matt Schneider, Bill Wachowiak and Fritz The Kat. Fritz the Kat was currently playing with another Buffalo band named Schwannoma, when approached by Mike Bongiovanni to possibly put together the band and play some local gigs.
Leon and the Forklifts made their first appearance on October 23, 1998 at a local coffee shop on Main Street in Buffalo, New York on open mic night. The band was approached by a booking agent for Nietzsche's, Buffalo's Legendary Music Hotspot, on Allen Street. The band began to make a name for itself, so the articles were written...
"Always fair dressed in suits," "lovin the ironing board keyboard stand," "the spinning bass, jumpin from amp to amp..." - The Buffalo News - The Gusto, Artvoice Magazine...
"Now that was a rock n' roll show... mix it up with some rock n' roll, the blues and country music... Mike Bongiovanni is the Johnny Cash of Buffalo..." - WNY - Nightlife Magazine - LATF at The Tralf
"A refreshing package of good old fashioned rock 'n roll... close to musical rock roots, performing rhythm and blues reminiscent of such legends as Chuck Berry..." - Jimmy John McCabe
"Smartly dressed and infectiously charming... a bit of the blues and a whole lotta fun..." - Toni Ruberto / The Buffalo News
"Funk, rock, blues, swing, soul and a party atmosphere –dancing, grooving, a good-sized crowd in tune with the band, and a band eager to stretch out..." - Jeff Miers / The Buffalo News
Leon and The Forklifts became the regular booked house band for McGarrett's (formerly Heenans's - Elmwood Avenue and Bidwell) (2001), The Calumet and Big Shotz (Chippewa Street) (2003). Leon and The Forklifts shares the stage with a great number of local and national acts - including, Michael Cisvca, Freddy "King" Cole, The Mighty Blue Kings, The Mighty Mighty Bosstones, Rhubarb, Bob Weir, The Rusty Nails - Thursday at the Square(1999), The Outer Circle Orchestra and The Benny Goodman Orchestra (Mayor's Ball, 2003).
Come out and experience Leon and the Forklifts, and don't forget your dancin' shoes!
Resurgence and Take-Off.
In February of 2009, the original members of the band came to a decision to start practicing again and return to the Buffalo music scene. Picking up right where they left off, Leon and the Forklifts began booking shows around Western New York including top local venues at Pearl Street Grill & Brewery, Sonoma Grille and The Legendary Lafayette Tap Room.
The Forklifts are playing a growing number of clubs, venues, weddings, events and festivals all over WNY and surrounding cities. Oh! The Skill!
With a consistent dedication to the Buffalo Music Scene, Leon and the Forklifts continues to entertain in and around Western New York.