Where's Leon?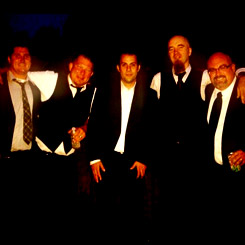 It all started with Leon and now we ask the question - Where's Leon? Well he just might show up at the next show... You never can tell, and no one ever knows. In the meantime, the Forklifts have carried on... Check out the places where you can catch them and many of the big events they've already been a part of! See you at the next show...
Just some of the venues past, and so much more to come...
Sonoma Grille, Trattoria Aroma, Hardware, The Dog Pound, Crazy Jakes, Club Infinity, Moonshiners, Salvatore's, Perfetto, Gene's Junkyard Bar & Grill, Eden Inn, The Eagle House, Templeton Landing, Foley's, Madigan's, Wildwood Grill & Saloon, Papaya, McGarrets, Heenans, Tudor Lounge, The Sheeben, The Aud Sports Bar & Grill, The Calumet, Pearl Street Grill & Brewery, Lafayette Tap Room, Big Shotz, Nietzsche's, The Tralf, Mister Goodbar, Crocodile Bar, Mohawk Place, Broadway Joes, The Stern, Spot Coffee, Stimulance, Seneca Niagara and Allegany Casinos, Connecticut Street Armory, The Agora and more...
Some Big Shows Past...
Thursday in the Square w/ Ron Hawkins The Tralf - with The Mighty Blue Kings
Erie County Fair
Gateway Harbor Concet Series
Carly's Crossing - (Roswell Cancer Institute)
Ellicottville Blues Festival
Winterfest
The Calumet with Michael Civisca
The Calumet with Freddie King Cole
Mayors Ball with The Benny Goodman Orchestra
Cleveland OutFest with Jerry Garcia Band and Bob Weir
Calumet (outdoor stage) with Outer Circle Orchestra